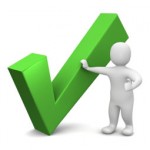 Project Euler 92: Investigating a square of the digits number chain with a surprising property
---
Project Euler 92 Problem Description
Project Euler 92: A number chain is created by continuously adding the square of the digits in a number to form a new number until it has been seen before.
For example,
44 → 32 → 13 → 10 → 1 → 1
85 → 89 → 145 → 42 → 20 → 4 → 16 → 37 → 58 → 89
Therefore any chain that arrives at 1 or 89 will become stuck in an endless loop. What is most amazing is that EVERY starting number will eventually arrive at 1 or 89.
How many starting numbers below ten million will arrive at 89?
Analysis
Project Euler 92: To begin, all chains that end in 1 are called happy numbers. Any chain that contains 89 or 4 will be destined to an endless loop of calculations and forever remain unhappy. Here's more information from Wikipedia: Happy number
It would seem a simple task to loop through all 107 numbers, calculate a chain for each one and count those that reach 89 or 4. This can, in fact, be done in less than a minute, but falls short for trying a limit of 1099 instead.
So, several optimizations can be ferreted out quickly when you realize that there are only 495 possible ways a number from 1 – 107 can have it's digits squared and summed. The range for these numbers is 1 to 567 (92 * 7).
This means that any number in the target range of 1 – 107 can be looked up from a small table that determines ahead of time which number will be happy or not. By extension, as we learned from Kristian's excellent Math Blog is to take similar "digited" numbers and simply add the multinomial coefficient to include all permutations of that number.
For example, 424501 is the same result of the sum of the square of the digits as is 244501, 501244, (0)12445, etc. In fact there are a total of 2520 combinations instead of 5040:
If we only check 576 numbers and calculate the multinomial coefficient instead of adding 1 by checking all 10,000,000 we save many iterations and are able to calculate much more challenging limits, especially 1099.
This problem was solved using these ideas and dynamic programming in logarithmic time.
Project Euler 92 Solution
Runs < 0.010 seconds in Python 2.7.

Use this link to get the
Project Euler 92 Solution Python 2.7 source
.
Afterthoughts
Less then 2 secs to calculate 10^99:
848621012961290009929016807175952691990221212867104144408323613154869710\
828195585404753698625209870
Afterthoughts
Project Euler 92 Solution last updated