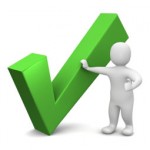 Project Euler 133: Investigating which primes will never divide a repunit containing 10n digits
---
Problem Description
A number consisting entirely of ones is called a repunit. We shall define R(k) to be a repunit of length k; for example, R(6) = 111111.
Let us consider repunits of the form R(10n).
Although R(10), R(100), or R(1000) are not divisible by 17, R(10000) is divisible by 17. Yet there is no value of n for which R(10n) will divide by 19. In fact, it is remarkable that 11, 17, 41, and 73 are only four primes below one-hundred that can ever be a factor of R(10n).
Find the sum of all the primes below one-hundred thousand that will never be a factor of R(10n).
Analysis
This is a modified solution from problem 132. Really all we're doing is finding the prime factors of a very large repunit R(n) using the Python modulus power function. We sum only those primes which are not factors.
Project Euler 133 Solution
Runs < 0.115 seconds in Python 2.7.

Use this link to get the
Project Euler 133 Solution Python 2.7 source
.
Afterthoughts
Project Euler 133 Solution last updated