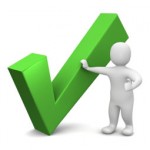 Project Euler 70: Investigate values of n for which φ(n) is a permutation of n.
---
Project Euler 70 Problem Description
Euler's Totient function, φ(n) [sometimes called the phi function], is used to determine the number of positive numbers less than or equal to n which are relatively prime to n. For example, as 1, 2, 4, 5, 7, and 8, are all less than nine and relatively prime to nine, φ(9)=6.
The number 1 is considered to be relatively prime to every positive number, so φ(1)=1.
Interestingly, φ(87109)=79180, and it can be seen that 87109 is a permutation of 79180.
Find the value of n, 1 <n < 107, for which φ(n) is a permutation of n and the ratio n/φ(n) produces a minimum.
Analysis
We can reduce our search significantly by selecting prime pairs (p1, p2 ) and calculate n as n = p1 x p2. This allows the totient to be calculated as φ(n) = (p1-1)(p2-1) for n. Now, just find the minimum ratio n/φ(n) for those n and φ(n) that are permutations of one another.
The range of primes was selected by taking the square root of the upper bound, 10,000,000, which is about 3162 and taking ±30% for a range of primes from 2000 to 4000 (247 primes).
Project Euler 70 Solution
Runs < 0.001 seconds in Python 2.7.

Use this link to get the
Project Euler 70 Solution Python 2.7 source
.
Afterthoughts
Project Euler 70 Solution last updated