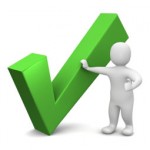 Project Euler 288: An enormous factorial
---
Problem Description
For any prime p the number N(p,q) is defined by
N(p,q) = ∑n=0 to q Tn*pn
with Tn generated by the following random number generator:
S0 = 290797
Sn+1 = Sn2 mod 50515093
Tn = Sn mod p
Let Nfac(p,q) be the factorial of N(p,q).
Let NF(p,q) be the number of factors p in Nfac(p,q).
You are given that NF(3,10000) mod 320=624955285.
Find NF(61,107) mod 6110
Project Euler 288 Solution
Runs < 5 seconds in Python 2.7.

Use this link to get the
Project Euler 288 Solution Python 2.7 source
.
Answer
Slowly swipe from either end beginning with the white vertical bar to get an idea of the starting or ending digits. For less drama, just double click the answer area. The distance between the two bars will give you an idea of the magnitude. Touch devices can tap and hold the center of the box between the two bars and choose
define
to reveal the answer.
Afterthoughts
The Trinket above will run the problem's smaller example in a few seconds. The larger problem would take the Trinket too long to run.

Project Euler 288 Solution last updated