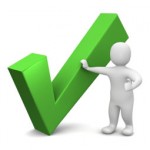 Project Euler 206: Find the unique positive integer for a concealed square
---
Problem Description
Find the unique positive integer whose square has the form 1_2_3_4_5_6_7_8_9_0,
where each "_" is a single digit.
Analysis
The square of any number, n, will end in 00 if the last digit of n is zero.  So, our square root ends in a zero and the square has the form  1_2_3_4_5_6_7_8_900.
We can reduce our search to 1_2_3_4_5_6_7_8_9 and multiply the square root (when we find it) by 10.  Now, the only way to end a square with 9 is to square a number ending with 3 or 7. OK, so our square root ends with 3 or 7, an odd number, and we can skip even-numbered n from consideration.
Let's begin our search with the maximum possible number, 19293949596979899 and take its square root. Starting with an odd number we count down by 2 until the square fits our pattern.
Project Euler 206 Solution
Runs < 0.001 seconds in Python 2.7.

Use this link to get the
Project Euler 206 Solution Python 2.7 source
.
Afterthoughts
The square root can only be a 9 digit integer that starts with 1 and ends with 0.

Project Euler 206 Solution last updated